The Portland Chapter of MOAA meets most months for dinner or brunch and to enjoy entertainment and speakers on timely topics. Come join us in the camaraderie. The chapter recently has won 5-Star recognition from the national MOAA (the best award for active chapters.)
In a national MOAA competition, both this web site and the Brass Bulletin newsletter produced by the chapter came in at number one in the country among chapters of our size. Take a moment to look around the site and see what the chapter has to offer.
In the News:
--Now is a good time to pay your dues if you haven't already. Dues are only $25 a year and are important to the Chapter activities, such as allowing us to give scholarships to ROTC college students and helping the residents of the Vet's Home in the Dalles. Please make out your check to PDX-MOAA and mail it to PO Box 68959, Portland, OR, 97268.
--The next meeting of the Portland Chapter will be a dinner meeting on Tuesday, Sept. 6, at the Monarch Hotel in Clackamas, 12566 SE 93rd Ave. Social time begins at 5 p.m. with dinner starting at 6:30 p.m. Guest speaker will be Rep. Julie Parrish, R-Tualatin/West Linn, who will give an update on the Oregon Legislature. Reservations are due not later than 11 a.m. on Wednesday, Aug. 31.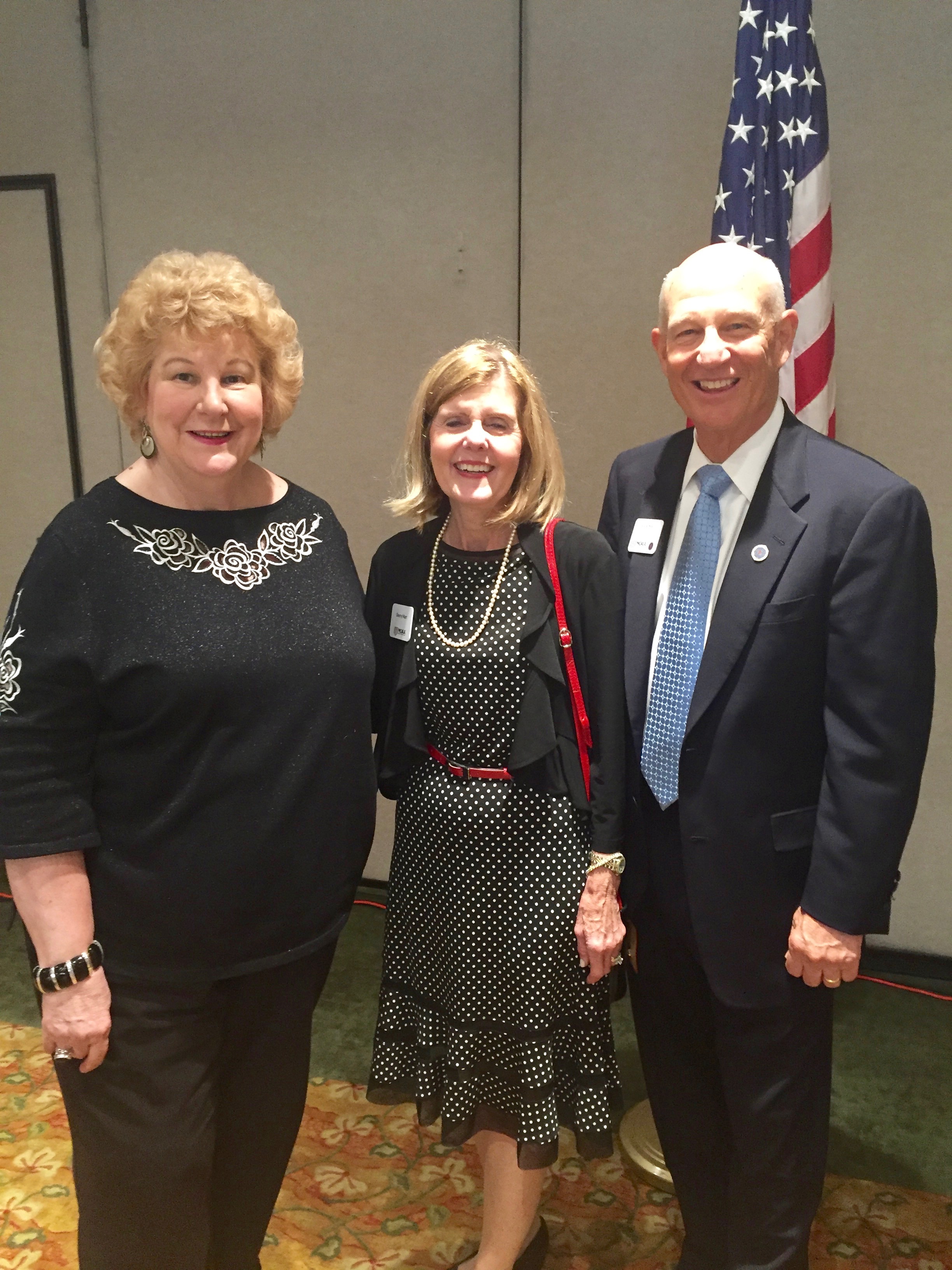 Major General Richard C. (Buck) Marr, USAF (Ret), his wife (center) and MOAA Portland Chapter President Col Mary J. Mayer, USAF (Ret), share a moment before the June meeting at the Monarch Hotel in Clackamas. Gen. Marr gave an update on legislative activities at the national level. He's a member of the MOAA national board of directors and Chair of the Government Relations Committee. He also installed the Portland Chapter officers for the next year.
---
MILITARY EXCHANGE OPEN AT CAMP WITHYCOMBE IN CLACKAMAS
The military exchange at Camp Withycombe in Clackamas is open to retired service members and other members of the military. A military ID or dependent ID is required. The exchange is part of the 41st Infantry Division Armed Forces Reserve Center, located at 15300 SE Industrial Way, Clackamas.
---
Reasons to Join the Portland Chapter
If you're on active duty, a National Guard or Reserve officer, retired or served earlier, you should consider joining the Portland Chapter of MOAA. Dues are only $25 a year. Here are a few reasons why you should join:
• Strength is in numbers, and when we stand together we can get much more accomplished to benefit our brave service members and to take care of our members who have served.

• Our chapter helps support retired veterans at their home in The Dalles.

• We support our courageous soldiers of the Oregon National Guard who are deployed on operations outside the state and overseas.

• We help keep the military in front of area young people and the public and tout the benefits of serving our country.

• We participated in the fight to keep the Oregon ANG 142nd Fighter Wing in Portland, which was successful.

• Earlier, we fought Oregon's unfair taxation of military retirees (and other federal retirees) who were being taxed on their retirement income when other retirees were not. Our Portland Chapter joined with other groups to fight this, taking it to the state Supreme Court. We won, and today you may benefit from that if you're retired. If you're not retired yet, you could benefit from it when you do.

• We participate statewide in activities sponsored by the State Council of Chapters of MOAA and the United Veterans Groups of Oregon to tackle state legislative issues affecting you and other veterans around Oregon. Your membership in the Portland Chapter supports these worthwhile efforts.

•We also have an active auxiliary, headed by Mrs. Jean Hillman, 503-692-5571. If you are interested in the auxiliary and would like to be involved, please contact Mrs. Hillman for further information.
---
Other issues will arise in the future – they always do – and we'll be ready to go to bat for you. Consider membership like insurance: We'll be there when you need us.

We hold monthly meetings most of the year on the first Tuesdays at various locations. For the latest details, please check our newsletter by clicking on the "meetings-newsletters" link above, under MENU. You are invited to join us: like-minded fellow officers and their spouses. The fellowship at our gatherings is wonderful.

Your membership in the Portland Chapter of MOAA keeps your voice in Washington strong as well as in the state's capital and here at home. Dues are only $25 a year. Please support your local chapter.

You can send a check for $25, made out to PDX-MOAA, to our mailing address:

P.O. Box 68959
Portland, OR 97268

Click here for a Membership Application (pdf) that you may fill-out and return to us by mail. Thank you.